Sidebar gadget
From Cumulus Wiki
Jump to navigation
Jump to search
| | |
| --- | --- |
| Name: | Sidebar Gadget for Vista or Windows 7 |
| Type: | 3rd Party App |
| Author: | Daniel Lintott |
| Contact: | 'claydon_dan' via forum |
| Last update: | 9 Sept 2009 |
| Version: | 1.2 |

This is a third party application is for Microsoft Windows which provides a Weather Gadget to your sidebar in Vista (or desktop in Window release 7).

Cumulus processes an XML files, which is then uploaded to your website and access by the gadget periodically.
Examples of screen shots... Day screenshots .... Night screenshots
Requirements
Cumulus
Cumulus XML webtags
A website
Windows Vista or R7 for the client
Installation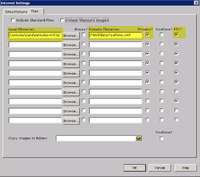 Download XML webtags
Unzip the files, which will produce one file (cumulusxml.tpl)
Copy the file into your Cumulus folder on your PC
Within Cumulus click Configuration, Internet, then the 'Files' tab
Add a new entry in one of the blank lines.
Local filename is the full path and filename of cumulusxml.tpl
Remote filename can be anything however it should be the path to your HTML files and a filename, ending in XML.
You must tick 'Process' and 'FTP' to allow Cumulus to add values to the file and upload it.
Optionally, if you wish to produce almost live data to your gadget tick the 'Realtime' option too.
On the client PC, download the Gadget -- http://cumulus.lenzphotography.co.uk/gadget/1.2/Cumulus.gadget
The gadget should self install from both IE and Firefox if you selct the Open or Run option (if you save it to disk, navigate to the file and double-click to install). You will see a warning message like the one below. Click Install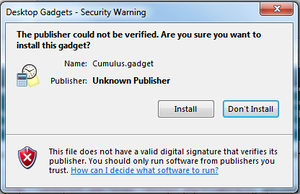 If if hasn't already done so add the gadget to your sidebar, as normal. On the gadgets first run you will need to enter a couple of settings.
Hover over the gadget in the sidebar and click on the 'Wrench' icon that appears on the right.
Set the URL to the Web Address for your cumulus website with the last part as the filename of the XML fle you entered into Cumulus earlier (cumulus.xml) e.g. http://www.yourdomain.co.uk/cumulus.xml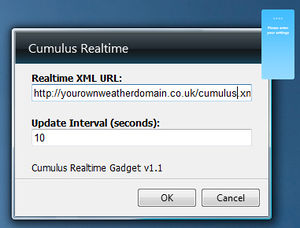 You can also adjust how often the gadget updates.